Who: 20 Participants from: Italy, Germany, Slovenia, Poland, France, Spain & Czech
WHEN: 3 – 14. June 2019
About Project a ten day training on the connection of youth work in rural areas and the topic of sustainability. During the training we will spend time on sharing and developing skills, experience and own projects in a focused atmosphere. We want to explore the possibilities of non-formal youth-work as well as focus on the topic of digital project documentation (film & blog).
We're looking to create a training group with trustful connection and mutual support and would like to ask everyone involved to take part as much as possible to support each other in each session. We will create a daily schedule that will incorporate the interests and needs of the participants. There will be also free time to do whatever we want together (there are 3 kajaks, lots of bikes and a beautiful surrounding with hills, lakes and cliffs to climb).
Where : The space where we will live and work together will be Gut Alaune e.V. which is situated between calm Saale river and rough porphyry canyons in a nature reservat close to Halle/Saale (Saxony Anhalt).
It's a project and living space just outside the city that a little community is setting up since the beginning of 2016 – so some stuff is a little improvised. Sleeping for instance will be in tents at GutAlaune or a space close by.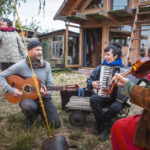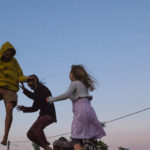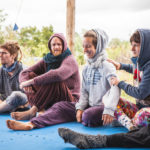 Workshop ideas and confirmed Workshops:
Permaculture garden design/planning/implementation
Ecological building: wood-construction; clay & straw
Hedgerow design and growing mushrooms
Usage of greywater: building reed beds
Creative work with recycled materials (maybe even electric bicycles…)
Learning on herbs – tour with local herbalist
Games from Theatre and social circus
Beekeeping
PARTICIPANT PROFILE:
Open to 18+, you are interested in:
strenghten their connection and awareness to nature
improve their skills in survival and problem solving
get to know a wide variety of approaches from outdoor and adventure paedagogics & explore games in an outdoor context
know how to prepare and lead group activities in the outdoors
strengthen their social competences through working in an intercultural setting
give input into the training, take part in the daily tasks of the training and share knowledge, skills and experience.
How much ?
Membership from Viaje a la sostenibilidad : 45€
The training will be co-funded through Erasmus+ which means they can offer to cover your travel and most of the costs of the training. Selected participants will be ask to make a contribution to the costs of the training (40-100€) for the hosting organization.